Goodbye, Recruiting Funnel! How the 'Recruiting Wheel' transforms talent acquisition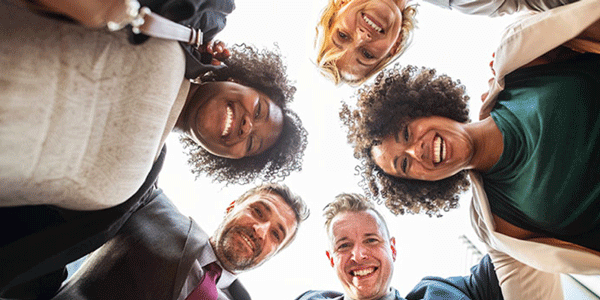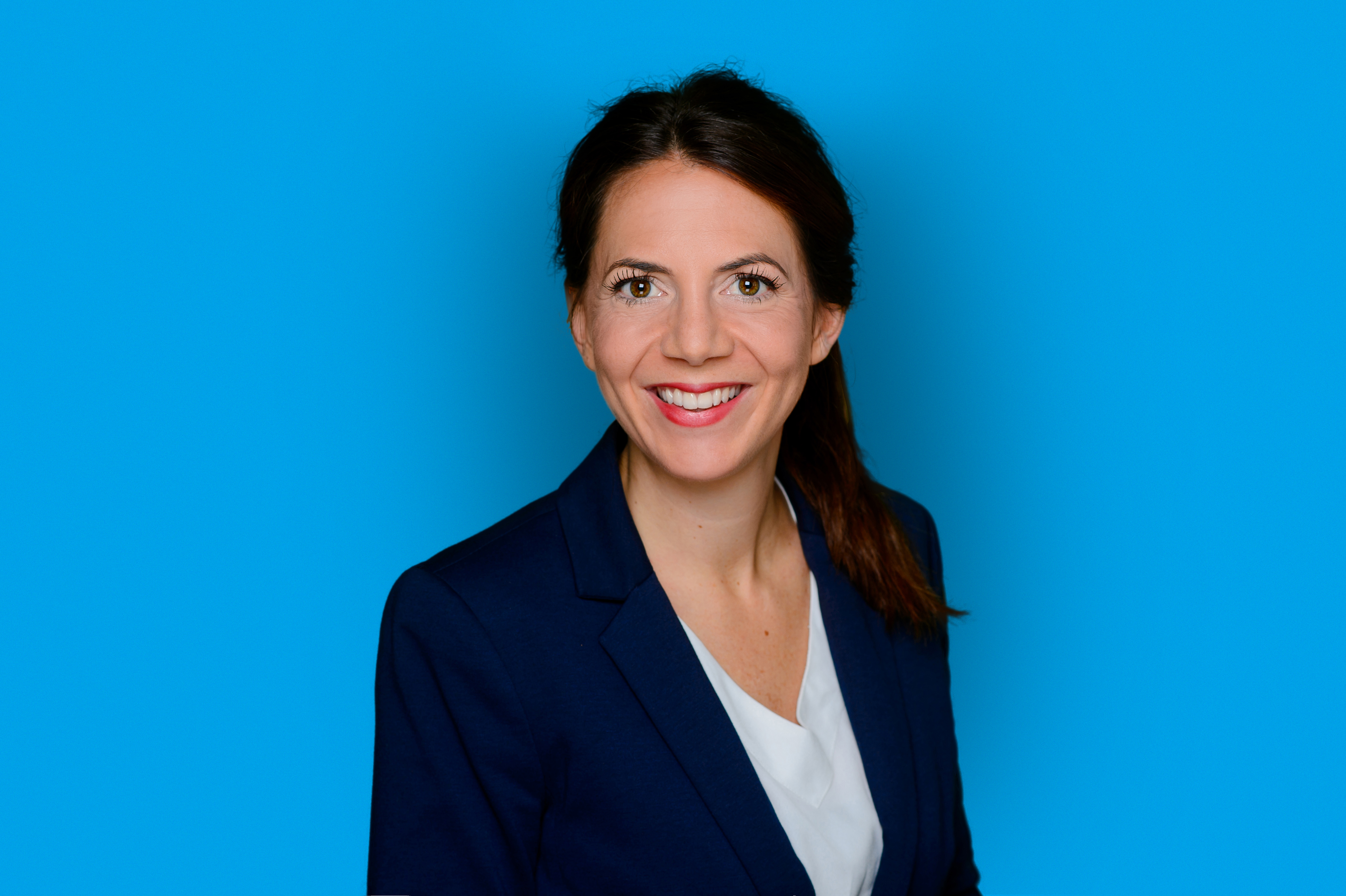 Yvonne Riedel
July 17, 2019
Every recruitment team has one. The much-loved Recruiting Funnel has accompanied us to many board presentations, greets us from office walls in the morning, and shows us the hard-won success of our recruiting efforts on a dashboard in the evening. That's why what I'm about to say could be a bit painful for many recruiters and employer branding experts.
We must part with our recruiting funnel.
This rather linear concept ceased to meet the requirements of modern recruiting long ago. Sustainable HR departments must turn their funnel into a 'flywheel' – at Talentry we call it a 'recruiting wheel'. Originally a machine element invented by James Watt (whose name can also be seen on today's light bulbs), the flywheel begins where the funnel ends: with the hiring of the candidate. The recruiting wheel rotates continuously. And the candidate, not the job, is the center of attention.
So how does the Recruiting Wheel work?
A direct comparison reveals the differences between Recruiting Funnel and Recruiting Wheel: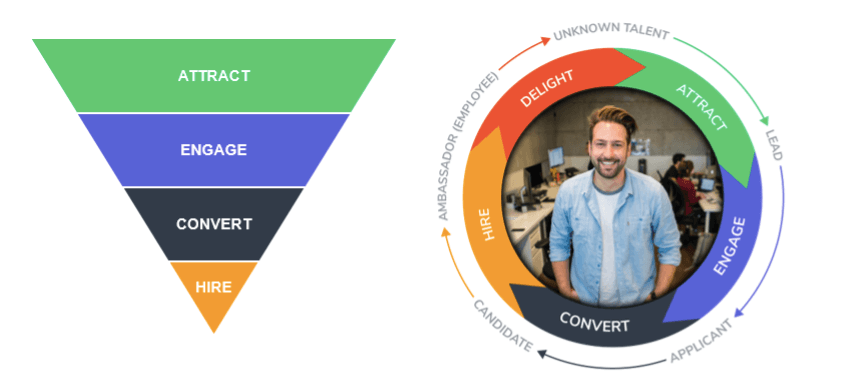 With the Recruiting Funnel, filling a vacancy is the end goal. Leads are generated to fill specific positions. Once achieved, the process ends, and then starts all over again. The funnel ignores the numerous talent leads generated for future positions that might not yet be created, which is why we start from scratch for every position we need to fill, rather than capitalizing on existing relationships. Every day. Every month. Every quarter. Sounds familiar?

Just consider all the valuable contacts you have generated via elaborate and expensive campaigns, career websites, or events. Once you successfully fill a position, many of these leads are forgotten. No longer part of the recruiting process, their potential remains untapped. The Recruiting Wheel, by contrast, keeps all candidates – new recruits as well as potential candidates – in the process and focuses on converting leads into candidates and turning hired employees into promoters.

The flywheel, invented over 200 years ago, retains its energy by continuing to rotate. The funnel, on the other hand, ultimately loses its energy. And that means important recruiting potential falls by the wayside—a loss that companies can no longer afford in today's 'War for Talent'.

By the way, HR consultants are already ahead of HR departments. A headhunter friend once told me that his most valuable candidate is always the 'second-best candidate'. The hired candidate likely won't change position for several years, while second-best candidates remain willing to change and are available for future positions. That's why he invests at least as much time in retaining his network as in filling the position.
How can the flywheel be applied to recruiting?
In the mechanics of the flywheel, three variables are decisive: speed, friction loss, and the diameter of the wheel.

Accelerate recruiting!
In the Recruiting Funnel, our focus is on recruiting new talent. At the moment of recruitment, we've reached our goals and so concentrate again on the top section of the funnel.

In the Recruiting Wheel, we accelerate the process holistically, centering all activities on the candidate in three specific ways:

Employee Advocacy. Employees become ambassadors, actively involved in recruiting new talent. Word-of-mouth is one of the most important recruiting tools in use today and employees are authentic ambassadors for the business. If the company they work for convinces them, they will convey their enthusiasm to the outside world. We call this Employee Advocacy. To support employees in their activities as brand ambassadors, systematic approaches are needed: a digital employee referral program and platforms that enable them to share content in their networks. High applicant quality and direct contact with employees ensure faster recruitment.

Candidate Relationship Management (CRM). Many candidates and leads come into contact with us during the recruitment process but are not hired, perhaps because the timing isn't right, the person is currently uninterested, or they are considered 'only' second-best. With a Candidate Relationship Management (CRM) tool, however, these contacts can be organized into talent pools and their enthusiasm sustained via targeted campaigns until they become suitable for hire. This helps to build long-lasting relationships and to mobilize and hire talent more quickly when it's needed.

Internal Pooling. Because willingness to change jobs and thus internal mobility will increase significantly in the future, the internal talent market has great potential. By 'pooling' all internal talent in the CRM, recruiters can search for new positions before time-consuming external measures have to be purchased.



Reduce friction losses in the process!
It's important to minimize friction loss in the wheel. We often have to access different systems in the recruiting process, and transferring candidates or establishing contact can be annoying, inefficient, and only possible manually. This not only makes it difficult to build a relationship with talent. It can completely stymie relationship building.

Ideally, all systems are connected. Candidates can be quickly captured by integrating social media profiles, marketing campaigns are automatic, and data protection is assured. Of course, CRM and BMS must also be interlinked – not only to avoid friction losses but also to ensure a seamless candidate journey. Only if all elements mesh perfectly can the wheel turn swiftly and easily.

The Talentry Recruiting Wheel combines all components–digital recommendations, the sharing of content via social networks, and the CRM tool–in one platform that can communicate directly with the candidate management systems.
Enlarge the wheel – build talent pools!
Involve employees, inspire candidates, and design seamless processes. This is how the wheel turns and talent pools with enormous potential are created. You get a wealth of talent leads that you can strategically organize and develop. And the broader the talent pools, the bigger the wheel and the higher the number of hires. Better yet, if a candidate is successfully hired, he or she will become an ambassador and a referee and generate additional contacts, further boosting the size and momentum of your bike.

We have not reinvented the wheel! Many marketing and sales departments have been using the flywheel approach for some time. But now it's time for recruitment and employer branding teams to adopt a new mindset. That's why we at Talentry encourage all HR teams to rethink their approach.

Recruiting goes on marketing & sales. Our recruitment marketing platform supports you. Without any loss of friction. Want to learn more about Talentry and the Recruiting Wheel?